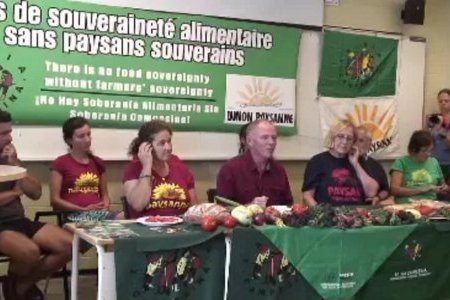 #FSM2016: August 11 Press Conference | La Via Campesina
Union Paysanne (Quebec) and La Via Campesina Press conference held on August 11, 2016 during the World Social Forum in Montreal.
Front (left to right): Marielle Vink-de Roos, Norsk Bonde-og Smabrukarl ag - NBS (Norway). Maxime Laplante Union paysanne (Quebec). Dena Hoff, National Family Farm Coalition (USA).
Behind (Left to right) : Benoit Girouard, Union paysanne. Catherine Avard, Union paysanne. Colette Lavergne, Union paysanne. Laurence Barchichat, Union paysanne. Richard Bourdeau, Centre Paysan. Dixie Green, National Farmers Union (Canada). Stephanie Wang , Union Paysanne/ Centre Paysan.
Source:Focus Puller / WSF TV